About Nasrin A. Barbee Architect's Studio
Nasrin A. Barbee has successfully overcome many types of architectural challenges, while consistently focusing on transforming every client's dream into a beautifully finished home.
The firm's philosophy of architectural services goes beyond traditional plans and specifications, stressing added value by being involved in every phase of projects. This insistence on quality control ensures an unerring match of client expectations to delivered results.
Project site visits ensure that contractors follow the plans we've designed. This provides additional feedback and coordination among the team members involved, which helps us produce superior designs and deliver an extra level of compliance not typically provided by others.
The firm's professional approach combines the highest level of attention to detail with an unrelenting focus on client service and quality control. Being involved with a project from start to finish, clients know we are on their team for success.
The following are the types of services provided:
Site Planning
Home Design
Green Design
Energy Efficiency
Lighting and Interior Details
Outdoor Living Spaces & Hardscaping

Construction Document Development
Consultant Selection and Coordination
Bid Document preparation
Contractor Selection Assistance
Planning and Building Department Approvals
Construction Observation
Nasrin A. Barbee Architect's Studio has handled a wide range of projects, ranging from small residential remodels to larger custom homes to redevelopment of a Montessori School.
About Nasrin A. Barbee, Architect, AIA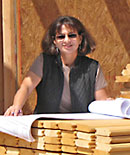 A graduate of UCLA's School of Fine Arts, Nasrin earned her Masters in Architecture from the UCLA School of Architecture.
She is a registered Architect with the State of California with over 25 years of professional experience, and has been a member of the American Institute of Architects since 1984. Nasrin is also a charter member of the AIA Palomar, and sat on that chapter's board of directors.
Nasrin is Past President at the Rancho Bernardo Sunrise Rotary Club, as well as a past member of Rancho Family YMCA Board of Management and the Poway Center for the Performing Arts Business Council. She actively contributes her time and resources volunteering in a wide range of ways to improve the community she calls home.
Nasrin Barbee has been in private architectural practice since 1989, with a focus on residential, custom homes, remodeling, home additions, and redevelopment of a Montessori School.
Click here to read about Barbee Architect's Studio Press and Awards